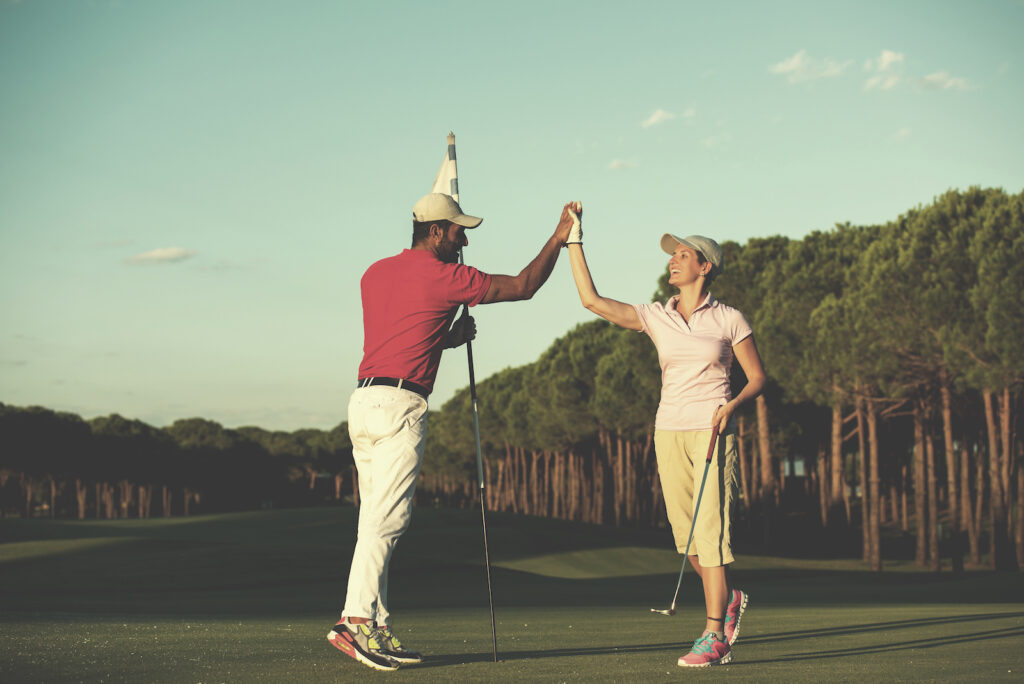 Golf lesson packages are a great way to improve your game and elevate your skills to the next level. Investing in a comprehensive program can make all the difference, as it enables you to receive consistent coaching and support tailored to your specific needs. In this article, we explore a few golf lesson packages that are perfect for golfers of all skill levels.
Understanding Golf Lesson Packages
Skillfully curated lesson packages often comprise several key elements: individualized lessons, feedback sessions, and customized practice plans. These components target specific facets of your golf game, ensuring balanced improvement. Some lessons focus on mastering essential foundations, such as a proper grip, correct stance, and effective swing, while others delve into advanced strategies and techniques.
The primary purpose of these packages is to address your specific weaknesses and refine your existing strengths.
Selecting the Right Golf Lesson Package
To find the right golf lesson package, consider the following factors:
Budget and Value: Prices of golf lesson packages can vary significantly. Establish a spending limit, and prioritize programs that offer exceptional value in terms of the coach's expertise, lesson frequency, and follow-up support.
Coach Experience and Teaching Philosophy: Golf coaches possess distinct teaching styles and levels of experience. An instructor whose approach aligns with your learning preferences can significantly impact your progress.
Frequency and Duration of Lessons: Assess the time you can realistically devote to golf instruction, and seek out a package that offers the appropriate number of lessons in suitable durations.
Lesson Format: Lesson packages can be conducted purely online, in-person, or a mixture of both. Choose a format that matches your learning style, availability, and location preference.
Featured Coaches and Their Online Golf Lesson Packages
One impressive golf lesson package is offered by Giles Gill, a highly regarded golf coach who has helped hundreds of golfers achieve their best game. Giles has created the "Better Every Month" and its lite version, "Better Every Month Lite," to cater to all skill levels. These packages include:
State of the art technology lessons
3D biomechanics analysis
Unlimited feedback and support, including Zoom calls
Full game analysis
Free practice packages
The full "Better Every Month" package offers unlimited lessons, while the lite version comes with two lessons per month. Both packages are designed to evaluate your game, identify strengths and weaknesses, and lay out a clear path to ensure your continued improvement.
Another great option is the golf lesson package provided by Matthew Ombler PGA, a PGA qualified professional with an FdSc degree in golf studies. His plans aim at enhancing consistency, lowering scores, and ensuring enjoyment in the game. Matthew offers:
One Time Lesson
Monthly Plan (includes two online lessons per month)
Unlimited Monthly Plan (unlimited lessons and 24/7 communication with the coach)
3 Lesson Package
5 Lesson Package
Matthew is a firm believer of the K.I.S.S. (Keep It Simple Stupid) philosophy, focusing on clear, straightforward instructions while building long-term relationships with his students.
Other noteworthy golf lesson packages include those of Patrick McCarthy from PMC Golf Academy and Mark James, a PGA Professional specializing in short game for tour professionals and amateurs. Both these coaches have a high success rate with their students and provide online coaching to optimize flexibility and convenience.
Benefits of Golf Lesson Packages
Improved Consistency: Customized lessons targeting your unique weaknesses and strengths lead to more consistent performance on the golf course.
Lower Scores: By honing your skills and developing better course management strategies, you can achieve lower scores and higher success levels.
Enhanced Enjoyment: Golf lesson packages make the game more enjoyable as you gain a deeper understanding of your technique and see tangible improvements in your performance.
In conclusion, golf lesson packages are an excellent investment for players looking to improve their golf skills and overall performance on the course. By working with a skilled coach and following a tailored program, you can expect to see steady progress and make significant strides in your golf game. So, don't wait any longer – find the perfect golf lesson package today and start playing your best golf ever.