What started as an after-work hobby with coworkers transformed into a career for Nick Adcock. The London, Ontario native became immersed in golf in his early 20s, eventually leading to a life in coaching at the renowned Sean Foley Performance Academy in Lake Mary, Florida. Nick shares his journey, detailing experiences ranging from his North American travels to first working at a golf course, plus how he got his dog, Bristol.
Nick is available for single lessons or via a monthly plan, and has a 5-star rating on Skillest.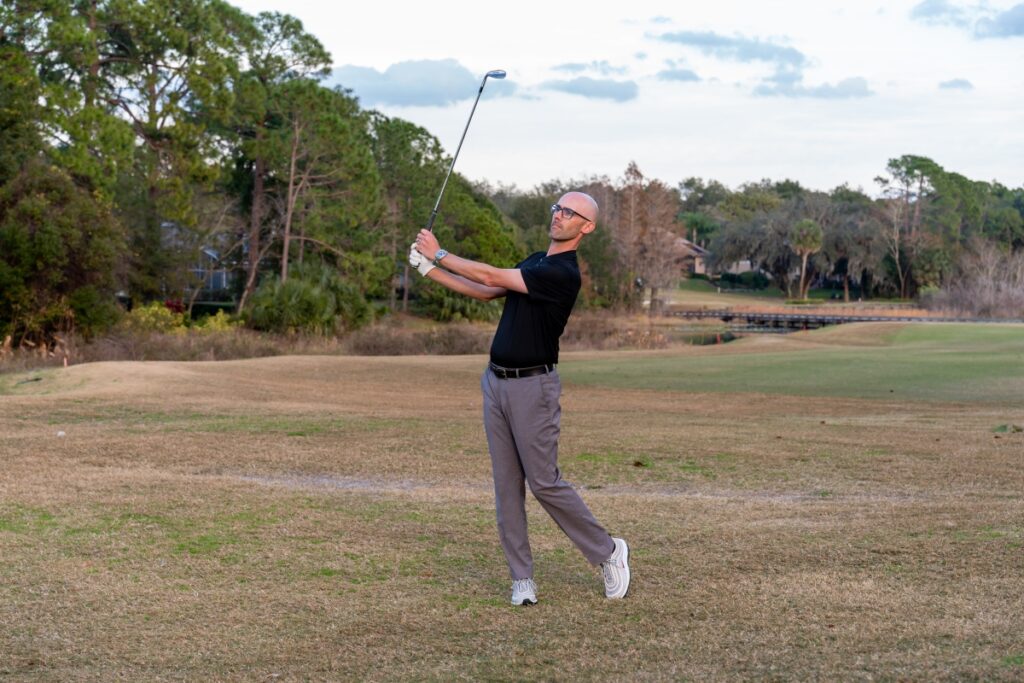 Zach Gray:
How did you get into golf?
Nick Adcock:
Growing up in Canada, I played a lot of hockey. I guess golf was kind of what you did in the summer when you couldn't play hockey.
Zach:
Which one did you play more often?
Nick:
Hockey, for sure. Though I never really played organized hockey.
Zach:
What eventually made you shift from playing hockey to golf?
Nick:
I'd say I made the shift a lot later than most, probably in my early 20s. I kind of played golf off-and-on when I was young, but my parents didn't play golf. My dad had a set of golf clubs, but they were right handed. I'm a lefty, so once a month I'd go to the driving range or like a little nine hole course. We weren't members of a country club or anything like that. It wasn't really until I was I was working a job on third shift and all the guys I worked with would play in the mornings after work. So we'd finish work at 6 am, go get breakfast at Denny's, be on the tee by 7, and you're home by 10:30 every day. We played four or five days a week.
Zach:
That sounds absolutely incredible.
Nick:
It was. It was awesome.
Zach:
How long did you do that for?
Nick:
That was probably three or four years. Early on I thought, I'm getting good at is pretty quickly. Maybe I want to be a high level amateur competitor, like win the mid-am and go play in The Masters. But I never saw myself as a professional; I had no aspirations that way. I just know the money side of it is a low percentage game. And being from Canada, it's an even lower percentage.
Zach:
So how did you make the shift to coaching?
Nick:
Coaching came about as I was trying to work on my own game. I took some lessons and actually got worse pretty quickly because the information was bad. In my quest to improve my own game and eventually find good information, the difference in where I was to where I got to was an incredible feeling. I thought, I'm not going to be playing professionally, but if I could help people and avoid what I went through, I think that'll be pretty cool.
Around 2008, I heard Sean Foley talk for the first time. He just talked about the game differently than anybody else. It was more of a holistic approach and really kind of turned my brain on.
Zach:
Why do you think you got worse with the lessons?
Nick:
I would say the information was was poor to begin with and I wasn't smart enough to ask intelligent questions. He was just fortunate to be at the best course, which kind of brought in the best players.
Zach:
And that's what makes Skillest great: lessons any time, anywhere. Have your students responded well on the platform?
Nick:
Absolutely. I think I've got four or five guys subscribing right now and they're just really knocking out of the park. The response I've had so far has been fantastic.
Zach:
What would you say to someone who is hesitant to take lessons on Skillest?
Nick:
I feel like the local pro, who is working 60 hours a week running the golf shop, merchandizing the shop, running tournaments, and then teaching lessons in his spare time doesn't have the time and resources to really be the expert or the authority. They kind of go to what's safe and familiar. Just a lack of clarity and maybe some understanding kind of holds the coaches back. And then as a result, the students suffer from that.
Whether it's in-person or remote lessons, the value is like 25% information and 75% application. In the in-person lesson environment, you really only get the information and a little bit of application. Whereas in Skillest, you get the information in a slow drip kind of way and then the value comes from the constant monitoring and upkeep of that information over a long period of time.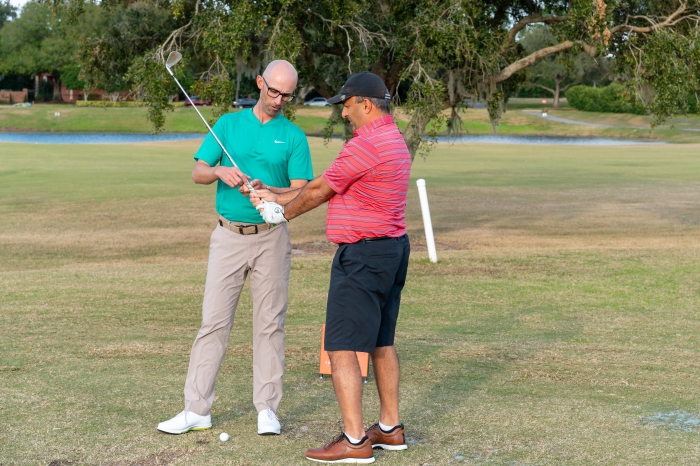 Zach:
How did you end up down in Florida with Sean Foley Performance?
Nick:
My wife's American. We lived in Rochester, New York for two years. Her best friend had moved to Florida around 2010. We took a trip down here to visit and we were blown away by the area. Cost of living was so affordable, it's gorgeous all year round, and there was the Golf Academy of America down here in Orlando. I thought to become a coach, you got to go to a school like that. So I had signed up to go, moved down here, and got a job at a golf course washing carts and cleaning clubs. The guy who was teaching at the course was actually Sean's assistant. He said, "You don't need to go to that school. Whenever you're not teaching, you hang out with me." And he kind of showed me the ropes from there.
Zach:
What are some things you do and don't miss about Canada? I'm going to assume you don't miss the snow & winters.
Nick:
You'd actually be surprised. I do miss the snow in the seasons a little bit. Christmas is always little bit more seasonal with some snow on the ground. I don't miss the snow in the middle of February though, when it's gray and dark out. But I think my favorite season is Fall, and we don't really get that here in Orlando. And obviously I miss my family, friends, and whatnot from back home.
Zach:
What's your favorite course you've played on?
Nick:
Boston Golf Club in Hingham, MA. Boston is my favorite city in the whole world.
Zach:
What's your favorite club in your bag?
Nick:
6 iron. It's the perfect blend of distance and trajectory.
Zach:
What's your dream foursome to play a round with?
Nick:
Tiger Woods, John F. Kennedy and Bobby Jones.
Zach:
Why JFK?
Nick:
Just for his viewpoint on the world. He was a fascinating guy, went through a lot in a short period of time, and he had a vision for the future that he never really saw materialize. And he was a golfer.
Zach:
If you could have a walk-up song for the 1st tee, what would it be?
Zach:
If you had a "normal job" what do you think you'd be doing?
Nick:
Well, after being a golf coach for eight or nine years, probably a therapist or some sort of psychiatrist.
Zach:
What is your golfing New Year's resolution?
Nick:
To play more. I think I played only five rounds in 2021.
Zach:
Who are some of your biggest golfing influences?
Nick:
I think you have to say Tiger Woods, as he moves the needle like nobody else. I'd also say Ben Hogan. As a coach, Sean Foley and Andy Plummer.
Zach:
I was doing some really important research on you and saw you have an 8-year-old Dachshund named Bristol. What made you go with a breed like hers?
Nick:
My wife had labs growing up and I always had shepherds. A coworker of hers needed somebody to dog sit their two dogs because of a family emergency. So we had these two dogs for the weekend and they were Dachshunds. Within an hour, I said to my wife, I want one of these. They're so cool. They're just high energy, high affection, and they're cute as a button. Everything she does is hilarious.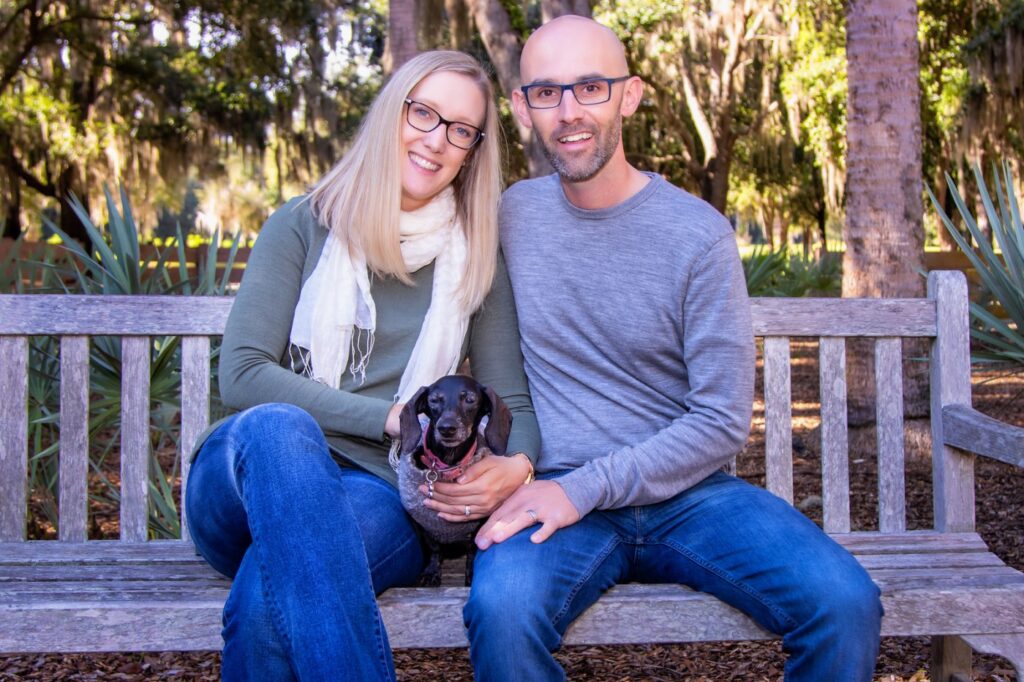 Zach:
Where can people follow you on social?
Nick:
I'm on Instagram @NickAdcockGolf