One of the most common questions golfers who want to improve ask is: When should I take golf lessons?
The answer is you should take golf lessons when you've decided you want to improve at golf. If you are a begnner, lessons will help you learn the fundamentals before you develop bad habits. If you are an experienced golfer, lessons are a great way to take your game to the next level.
Golf is an incredibly difficult sport to learn. Lessons from a qualified instructor will help you improve much more quickly than learning on your own. But only 1 in 6 golfers pay for golf lessons. Here are some of the top reasons why golfers don't take golf lessons: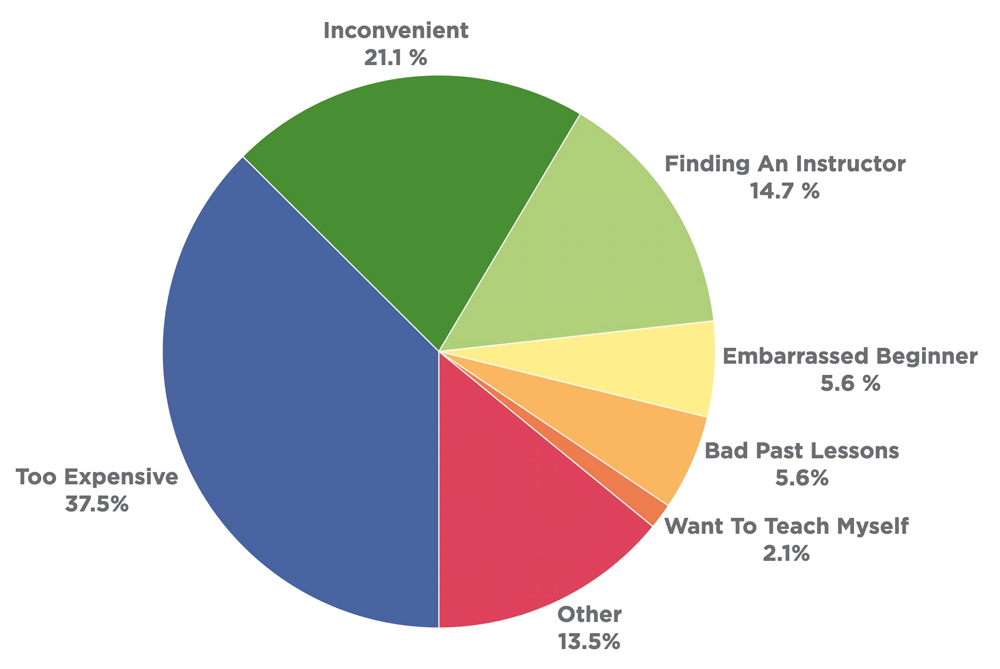 Cost
The biggest reason golfers don't take lessons is the cost. Golf can be an expensive sport. You can spend hundreds if not thousands each year on golf clubs, training aids, green fees and memberships. The thought of spending even more on lessons can be daunting. This is especially true because most people believe that one golf lesson is not enough to see sustained improvement. If cost is one of your concerns, consider online golf lessons on Skillest. Coaches charge less for online lessons and they often give more value.
Inconvenience
Scheduling a time with a coach and getting to the lesson can be a pain. It's hard enough to make time to play golf and even harder to squeeze in time to practice. Finding time for lessons can be challenging for most. Online golf lessons on Skillest are great because you don't need to schedule anything. All you need to do is record your golf swing and then send the video to your coach. You'll get back a detailed video analysis and drills to work on. You can review your lesson whenever you have time and ask your coach questions.
Finding The Right Instructor
How do you know if your golf instructor will be good? How do you find the right instructor for you? Wouldn't it be great if there was a Yelp for golf coaches? Skillest is about as close as you can get. Every coach has ratings and reviews so you'll know you are getting lessons from a top notch golf instructor. Most coaches on Skillest put out free content on their social media, so you will know their teaching style before you take your first lesson with them.
Embarrassed Beginner
If you're too embarrassed to seek out a coach, you're not alone. Almost 6% of golfers are embarrassed and that's why they don't take lessons. Golf can be intimidating. For many, online golf lessons is the solution. An online golf lesson starts with you sending your golf swing to your coach. You can have a friend record you next time you play a round of golf or you can record yourself. More and more golfers are finding ways to practice golf without leaving their own house.
Bad Past Golf Lessons
One reason golfers don't take lessons is because they've had a bad prior experience. I remember my first golf lesson vividly even though it was 30 years ago. I took a lesson with Art, who was an instructor at my local pitch and putt. I didn't know his qualifcations and I didn't know how to pick the right instructor for me. In my lesson, Art kept telling me to sweep the ground with my club. I actuallly hit the ball better during the lesson, but I had no idea what I was doing or why. And one week later when my swing faltered, I had nothing to review to help me get back on track.
When you take a lesson on Skillest, you can be confident that you will get an amazing lesson from a top-notch coach. You will have access to your lesson to review anytime and you will be able to contact your coach after your lesson if you have questions.
Skillest Is A Better Way To Learn Golf
There are a lot of reasons why golfers don't take lessons today but Skillest addresses most of them. Skillest is more affordable, more convenient, and more effective than in-person lessons. If you want to improve your game, try an online golf lesson on Skillest.