If you want to become a better golfer, golf training is a great way to do just that. With so much information available, it can be difficult to know where to begin. This article will give you all the information you need to start golf training.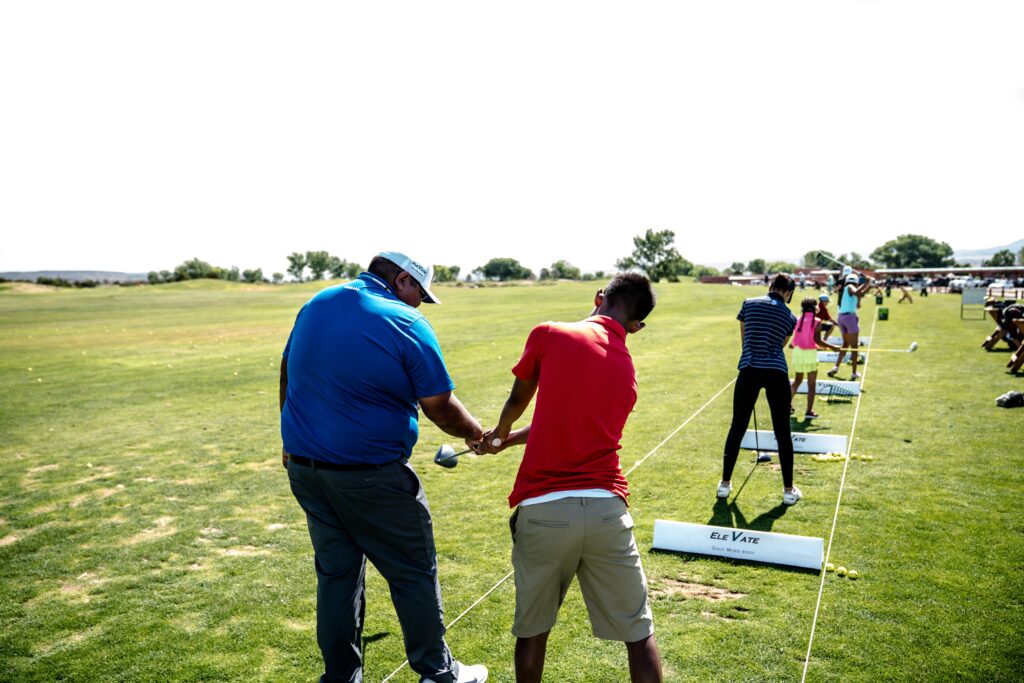 What is Golf Training?
Golf training is dedicating time and effort to practicing the areas of your game that will make you a better golfer. When training is done well, you can work past your weaknesses and further develop your strengths.
Training can target the technical areas of golf such as putting or improving your swing. It can also take place away from the course, for example working on your fitness or mental preparation.
Golf training is the perfect way to take responsibility for your progression and commit to becoming a better golfer.
How to Start Golf Training
Set a Goal
Before you start golf training, it's important to have a goal in mind. This will be your motivation and a way to measure progress. Here are a few examples of goals that could be used to start golf training:
"Regularly break 90"
"Hit more greens in regulation"
"Find the fairway more"
"Shoot an even par round this year"
Your goal will need to be specific to your game. You need to make it measurable so you can analyze how successful your training has been. For example, if you want to find the fairway more, calculate how many fairways you're currently hitting on average before you start training.
A goal will also help you to identify where you can improve. If you want to break 90 regularly, knowing whether you are gaining more strokes from your driving, approach shots, short game or putting will make it much easier to prioritize your efforts.
Create a Golf Training Plan
A golf training plan acts as a schedule for your practice, made up of individual training sessions. You can break your initial goal down into smaller, more manageable parts to work on within these sessions.
A training plan lets you schedule practice days in advance, which helps you commit to your training. This will stop distractions from getting in the way of your program.
If you have an easily achievable and generic goal like "become a better putter, " you might be able to set aside time to practice putting every week and achieve your goal by yourself.
If you have a specific and challenging goal, for example drop 10 strokes off my handicap in one year, most golfers need outside help. This is where hiring a dedicated golf coach for expert advice can help.
Hiring a Golf Coach to Help Your Training
A coach can be a huge help with your training. They can analyze your game to help you understand what you need to work on to achieve your goal. More importantly, they can identify specific things you need to fix and what order you need to fix them in, so that these changes are more likely to stick and have long lasting benefits.
Commitment will make or break your training and coaches can offer tailor-made training plans that fit around your other commitments.
Your coach will also act as someone to hold you accountable. It's easy to flunk a training session if you're only letting yourself down. But with someone else invested in your game it's much harder to give up. You'll have goals, plans, and a person to keep you accountable.
Your coach can offer regular check-ins, as well as advice on all aspects of your golf game. When you are struggling, your coach can help you identify what to work on.
Online lessons are the most efficient way to get a golf coach for your training. They're more cost-effective than face-to-face lessons and you don't need to waste time traveling. This means your time can be spent on what matters most: golf training.
Apps like Skillest allow you to connect with the best golf coaches in the world. You get online coaching on-demand and won't need to wait for your next lesson to ask a question. It's as simple as sending a query or a video of what you're working on to your coach and then receiving their detailed feedback. You get a history of your lessons that you can look back on as your training progresses.
Begin Training and Commit
Now that you're ready to start training it's time to get to work. The most important thing is showing up to every session and your level of commitment is key to how successful your training will be.
Progression in golf isn't linear so if you're putting in the hours but aren't seeing the progress right away don't quit. Your future self will be thankful for all of the hours you put into your training.
One of the pain points of training is that it's difficult to get feedback. If you've got a coach, sending them a video of your training is a great way to get validation and advice. Another way to get feedback for what you're working on is by using training aids.
Use Training Aids
Training aids are tools that help you to increase the effectiveness of your practice. They will let you get feedback during training, making it easier to measure. Whether you need to improve your tempo, ball striking or putting, you'll be able to find a training aid.
Training aids can be as simple as using a golf towel under your foot to improve your rotation, or using an alignment stick to help monitor your takeaway. Some coaches suggest attaching rubber bands to your putter to make sure you are striking the sweet spot every time.
An example of a training aid that offers great feedback is the Putt Out Pressure Putt Trainer. This is a device designed for putting which mimics a hole. It has a tiny section that will catch the ball if you hit a putt on line with perfect pace.
Unless you know exactly what you need to work on, it often helps to start with a coach, identify your weaknesses, and then consider training aids to help you improve more quickly.
Measure Your Progress
Once you've finished your training plan you may find that you've accomplished your goal and stop there, or that it's time for a new goal.
As you improve, you'll need to continually review your training and as your goals evolve so will your practice. For example, you need to put yourself under more pressure to shoot level par than you do to break 80. Drills where you previously holed 10 putts in a row might need to be increased to 20.
You should reflect on your progress and whether your training was a success or not. Understanding what went well and what didn't will help make your future training more efficient.
To find a golf coach for all of your training needs why not try Skillest by clicking here.