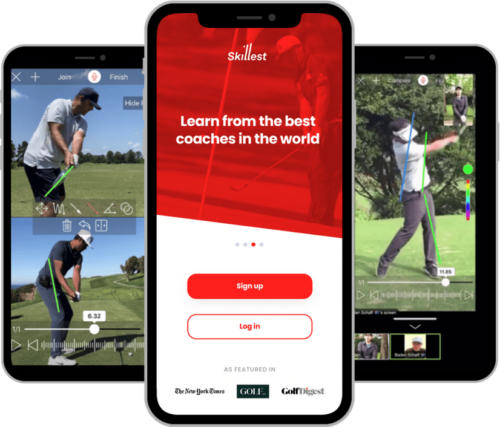 We all struggle with finding enough time in our day to play and practice golf. Sometimes taking an extra trip out to the golf club at a time that works for your local golf professional is just not convenient. With the modern technology that golfers have access to, online golf lessons are a perfect replacement to traditional in-person lessons. With the right platform and the right instructor, the results can be even more impressive than you expect. Let's take a more in-depth look into how online golf lessons work and whether or not this is a solution for your golf game.
How Do Online Golf Lessons Work?
Online golf lessons allow you to work with a coach remotely to help you improve your golf game rapidly. Online golf lesson platforms like Skillest allow you to upload videos, photos, and information about your game and then work with a coach to provide personalized feedback to help you reach your goals. Instructors can analyze your swing, assess where your game needs help, and give you the advice and feedback you need to lower your handicap and be the best golfer you can be.
Types of Online Golf Lessons
There are two basic types of online golf lessons. The first in non-personalized video content and courses. The other is personalized instruction where you work directly with an instructor.
Video Content Course
With a video based course, you will often get a series of videos covering the different aspects of a golf swing. These video based series have lots of valuable information, but they will not be personalized to the problems you face. The challenge will be that you may not be working on the right things because it's hard to self diagnose the biggest problems you have with your own golf swing.
Personalized Instruction
The more effective and preferred type of online golf lesson is personalized instruction like Skillest offers. On Skillest, you will find a coach with the teaching style and price point that matches your needs.
Your coach will work with you, diagnose what aspect of your game you need to work on, and will be there for you to answer any questions you have. You can upload videos, message your coach, share stats and discus your goals and progress.
This type of personalized instruction is the difference between rapid improvement versus finding your way on your own. Even the world's best golfers in the world have a coach to help guide them.
What To Look For When Booking Online Golf Lessons
If you are new to online golf lessons, there are a few important things to keep in mind. Ensuring that you get started on the right path will only mean quicker results for your golf game.
Qualified Professionals
Who is teaching the lessons?
At Skillest, you will have your choice of qualified professionals from all over the world. If you want to read information about these professionals or what clubs they are associated with, that is very easy to do.
In addition, with Skillest, you can even schedule a quick meet and greet over Zoom with the professional you will be working with. This meet and greet helps you understand how online golf lessons work and lets you get to know the coach you will be working with.
If you're interested in learning more about Skillest, find a coach here.
Pricing For Online Golf Lessons
Pricing for online golf lessons depends on the coach, their background and qualifications and demand for that coach. Online golf lessons tend to be more affordable compared to in-person lessons and you get to keep and rewatch your lesson anytime.
If you purchase an in person lesson, when you have questions after your lesson, you will need to schedule another lesson to get your questions answered. But if you purchase an online subscription with your coach, the relationship and model completely changes.
With a subscription, you can ask your coach questions anytime. You can work on multiple aspects of your game at t the same time as well. For example you can discuss short game, putting, course management, and your full swing all under one subscription with your coach.
Simple To Use Platform
The platform you choose for online golf lessons should be incredibly simple. Uploading videos or notes and sending them to your golf coach should only take you a matter of seconds.
Skillest has a built in messaging system where you can chat with your coach, send videos, voice messages and share files. Skillest is available on the web, iOS and Android devices.
User Feedback and Reviews
Take a look at the reviews and user feedback on the platform and the professional you are thinking of working with. Reading positive reviews where real golfers were able to improve their games and create a lasting coach-player relationship will help give you the confidence that you are making the right investment.
Benefits of Online Golf Lessons
The benefits of online golf lessons, when compared to in-person golf lessons, are going to vary a bit from one player to another. However, there are a few key benefits that will stand out for almost any player.
Wide Range of Professionals To Choose From
Most cities and towns will have a handful of local instructors. Although many of these coaches are highly qualified, their schedules may not align with yours, they may be booked for months, or their teaching methodologies don't work for you.
With online golf lessons, you will not have these concerns as you have access to an entire world of golf coaches. With the introduction of technology, golfers are no longer restricted by the golf coaches that live closest to their homes.
Archive of Information
How many times have you gone for a golf lesson and wished that you could remember what it was that the golf instructor told you?
With online golf lessons and the personalized formatting of the Skillest platform, you will be able to collect all of your videos and conversations with your coach in one spot. This is valuable information that golfers can then pull up when they feel as though they need a refresher.
It's easy to forget a tip or a concept that a golf professional has expressed, and having this archive can make all the difference.
Work at Your Own Pace
When you sign up for online golf lessons, the availability is usually considerably better than with in-person golf lessons. Many golfers are restricted by work hours or daylight hours when scheduling traditional golf lessons; with an online lesson, you can send videos of your swing from your backyard or even a golf room in your home.
You no longer have to schedule lessons. You communicate with your coach online and ask questions and get feedback whenever you have time. There is no better way than online golf lessons to improve quickly for go-getters that want to improve as quickly as possible.
Who Should Take Online Golf Lessons?
Anyone can benefit from taking online golf lessons, but some groups of golfers will especially benefit from this type of learning environment and style.
New golfers: Are you a new player that has lots of questions? Online golf professionals are more readily available than in-person golf professionals. Don't wait a whole week or two weeks just to ask your next question.
The golfer with goals to improve rapidly: Are you trying to drop your handicap significantly, qualify for a local event, or improve enough to beat your buddies? Online golf lessons can provide you with the guidance, frequent feedback, and interaction with a golf coach to help you reach your goals.
Busy golfers: If you work a lot and don't have the time to hit the golf course after a day of work, online golf lessons are done remotely so you can upload your swing and ask questions anytime. There's no scheduling with online golf lessons.
Golfers that don't live close to a great professional: Not all golf courses have great teaching professionals. If you want to improve your game with the help of a skilled professional, online golf lessons open a world of possibilities.
Conclusion: What To Expect From Online Golf Lessons
At this point, you should have a little better understanding of what online golf lessons are, why they can be beneficial and who should consider signing up for them. Online golf lessons are revolutionizing the way the game of golf is taught, and now is the time to jump on board. With a platform like Skillest, you can schedule a quick meeting with a professional to see if their teaching methodology and this system will work for you.